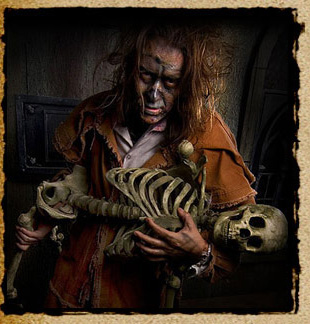 DISCLAIMER
Magic Moon Farm, Inc. d/b/a Headless Horseman Hayrides & Haunted Houses reserves the right to refuse a ride to any patron at any time, for any reason. Your ride ticket is a revocable license and can be taken with admission refused. All patrons will voluntarily assume all risks and dangers associated with each and every attraction and agrees to release the operator(s), affiliates, officers, directors, employees, and landlord from any liability, harm, injury or death, cost or expense whatsoever that may arise directly or indirectly from attending this attraction. This is an outdoor attraction which is held in the dark! APPROPRIATE ATTIRE IS REQUIRED. You will experience audio & visual disturbances, low visibility, strobe lights, fog, damp and/or wet conditions, encounter uneven walking surfaces in a physically demanding environment. While every effort is made to ensure your safety, you should not participate if you are: pregnant; suffer from claustrophobia; are prone to seizures; have heart, back, or respiratory problems.
Can I work at Headless Horseman Hayrides and Haunted Houses?
We hire for the following positions:
Performers
Story Tellers
Make-up Artists
Gift Shops
Concessions
Reservation Agents
You must be at least 18 years old to work for Headless Horseman Hayrides. All positions are available during September and October, primarily weekend evenings. Please see our Schedule for our Dates of Operation. Reservation Agents are needed August thru October, day and evening. Please call 845-339-2666 ext: 103 to schedule an interview or with any questions about employment opportunities.
What type of attractions do you have?
We have a one mile long hayride, a labyrinth-style corn maze, and 6 haunted houses. In addition we have side show and line actor performers, 4 eateries and 4 gift shops.
What ages is your attraction appropriate for?
We do not recommend our attraction for children under 10 years of age. Due to the fright factor, children 5 and under are not allowed on our evening hayrides, in the corn maze or the haunted houses. Be advised that while the haunted houses have emergency exits, there are no such exits on the hayride or the corn maze. Children age 15 and under must be accompanied by an adult at all times.
Do you offer any discounts?
Group Discounts - On Thursday and Sunday evenings only we offer a 10% group discount on groups of 30 or more. Please call to inquire about group discounts. (Exception - Columbus Day Weekend)
Opening Night - Our opening night price for Saturday, September 22 2012 is only $28.95
Please note that these discounts cannot be combined or used in conjunction with tickets purchased online.
What does my hayride time mean?
Your hayride time is the approximate time that your hayride begins. It is recommended that you arrive approximately 30 minutes prior to your hayride time.
What happens when I get there?
When you arrive at Headless Horseman Hayrides, you must go to the Ticket Window to exchange your reservation confirmation for a ticket. On site ticket sales are sold at the discretion of management and depend on availability. RESERVATIONS ARE STRONGLY SUGGESTED!
You then continue through a Security Line and enter our Midway. You will go on the Hayride first. The Hayride will drop you off at the Lunar Motel Haunted House, you will continue thru Glutton's Slaughter House, The Root Cellar, Dark Harvest Cornmaze, Night Shade Greenhouse, The Feeding and Dahlia Bloods Haunted House. Each attraction leads to the next. When you exit the Dahila Bloods, the last haunted house, you will be back in the midway area where you began. DURING THE HEIGHT OF THE SEASON, THE ENTIRE EVENING WILL TAKE APPROXIMATELY 3 HOURS TO COMPLETE. COME EARLY IN THE SEASON TO AVOID LINES.
When is the first hayride of the night?
The first hayride of the night is at approximately 7 pm.
When is the last hayride of the night?
The last hayride of the night can leave any time between 9pm and 11pm, depending upon on the time of our last reservation for the evening.
I have an 11 o'clock hayride. Will I get to see everything?
Yes, you will be able to go through all of the attractions. However, you should arrive early if you would like to see the Side Show or visit the gift shops. The park closes after the last group has exited the last Haunted House.
I want to go on a hayride when it's really dark. What's the best time?
Since we are only open in the evenings (when it's dark) any hayride time is fine. Also, please note that we do not discern between dark, dark dark, really dark, and ultra dark. It's nighttime, its DARK. P.S. The sets along the hayride trail are professionally lit.
What are the times for the Side Show?
Performances are several times throughout the night. The first show is generally at 8 pm. All show times will be displayed on the stage.
How long will it take to do everything??
Approximately 2 ½ to 3 hours. Anticipate 3 hours on any Friday or Saturday night during October.
I have a reservation; do I still have to wait in line?
Unfortunately, yes.
Why do I need to make a reservation in advance?
Making a reservation secures you a space on whatever night you would like to come. Without a reservation, we cannot guarantee you admission into Headless Horseman.
How early should I arrive for my hayride?
You should arrive approximately 20 minutes early in the beginning of the season, and 40 minutes early during October.
How many people fit on a hayride?
Approximately 30 - 35.
What happens in case of inclement weather?
A closing announcement will be posted on our website and our phone system. In addition, you will receive an e-mail that will instruct you how to change your online reservation yourself, to a future date for the 2012 season. Please choose your new date and time as soon as possible to obtain your new reservation for the 2012 season. SORRY THERE ARE NO REFUNDS, NO EXCEPTIONS, ALL TICKETS MUST BE USED IN 2012.
If you've had to cancel the evening due to inclement weather, are the haunted houses still open?
No, we will close our entire facility for that evening.
How can I find out if you are closed due to inclement weather?
A closing announcement will be posted on our website and our phone system. The most efficient way to find out is to check our website. We will make every effort to reschedule your reservation. If your reservation cannot be rescheduled, tickets will be issued at the end of the season for the following year. SORRY, THERE ARE NO REFUNDS.
What form of payment do you accept at the ticket window?
We accept cash as well as Visa, Matercard and Discover. We have an ATM machine on site.
Do you accept credit cards?
Yes, we accept Visa, Mastercard and Discover at the ticket window and in all our gift shops.
Is it really scary???
We certainly hope so!
If I leave through an emergency exit, can I get a refund?
No, if you decide to exit any attraction early we will not grant a refund or re-entry
Do you have any chainsaws at the attraction?
Yes
Do you use Strobe lights?
Yes, specialty lighting is used throughout all attractions.
Do you have clowns in the show?
Yes. One of our attractions for the 2012 season is Dr. Dark's Black Spider Sideshow and it is inhabited by clowns.